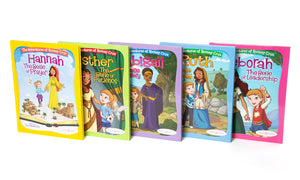 Bible Belles Christian Children's Book Set, The Adventures Of Rooney Cruz Bible Story Books, Age 4 - 10, Set Of 5
Truth Becomes Her
Regular price $79.00 $59.00 Sale
Need a great gift that both girls and moms will love? We thought so. If you're like us, sick of wandering the aisles thinking, "I can't just get her a toy, that's lame", then step right up because your prayers have been answered. Our kids christian 5 book set is the perfect solution and makes great kids gift.
Our Childrens Gift Book Set Includes:
Hannah: The Belle of Prayer Book
Esther: The Belle of Patience Book
Abigail: The Belle of Bravery Book
Ruth: The Belle of Loyalty
Deborah: The Belle of Leadership
So stop your search, and start a life-changing journey that your little belle will never forget. Give your little belle the chance to learn about and look up to real role models: the Bible Belles! These fun Christian story books are great for pre and early readers age 4-8, and independent readers age 9 and 10.
In these fun kid's books, travel with Rooney on many exciting and meaningful adventures that will teach her about the amazing God who loves her and transform her into the best kind of superhero-a Bible Belle! Help your little belle learn the true definition of beauty and unlock the secret of her own life: God made her a hero, too! In today's world, the girls who are the loudest are the ones who get noticed. Together, the Bible Belles show us how to make a different kind of noise.
Our mission is to empower the next generation of girls to make a different kind of noise. We serve the moms and dads out there who struggle with what the world tells their daughters to be. Imagine if you could give your daughter superpowers, a chance to discover the hero inside her heart. Don't let what the world tells her be her truth. Instead, guide your daughter toward her destiny, and help her discover God's love and her purpose.